News for the Foresight Community
Hot Topic: Megatrends and Future Research
In case you missed it, OECD released its 2016 report on megatrends earlier this year, titled An OECD Horizon Scan of Megatrends and Technology Trends in the Context of Future Research Policy. The analysis and conclusions should bring no surprises to futurists—the top two megatrends continue to be population (uneven patterns in growth, migration, and aging) and resources (the impacts of climate change on water, energy, and food shortages).
The report focuses three of its five megatrends on clusters of trends within the global economy: the changing geo-economic and geopolitical landscape, digitalization as a change driver in economies and in the way we work, and growing gaps in wealth, health, and knowledge contributing to global divisions.
OECD also analyzes the technologies that promise (or threaten) to have major impacts over the remainder of the 21st century, including the Internet of Things, artificial intelligence, neurotechnologies, nanomaterials, additive manufacturing (i.e., 3-D printing), and advanced energy storage technologies.
A relative newcomer to the list of impactful technologies is blockchain, the database technology that made bitcoin possible. As with all technological developments, negative outcomes are a possibility. With blockchain, OECD warns, "The pseudo-anonymity of transactions raises several concerns around the technology's potential exploitation for illegal activities, ... including money laundering and transfer of value for illegal goods."
The final section of the report focuses on how research on such trends can be improved to advance policy making. OECD calls for more open access to scientific research (especially that which is supported by taxpayers) as well as "blue-skies" research that is open-ended. Citizen science and silo-breaking multidisciplinary research are also trends that merit direction and support.
This will require new skills, the report notes: "The more open nature of science and the closer links science is building with industry will require researchers to reinforce their 'soft' skills, including in project management, team-working, and business and intellectual property awareness."
Download the report An OECD Horizon Scan of Megatrends and TechnologyTrends in the Context of Future Research Policy
Signals: megatrends, policy, population, resources, technology
Futurism in the News: Forbes on Corporate Futurists
So you got that great job leading the foresight efforts of a major corporation. Congratulations—but don't get comfortable, Forbes warns in a post provocatively titled "Why Companies Need Corporate Futurists But Will Fire Them Anyway" by contributing writer Stephen Wunker.
Consumer-oriented businesses such as Procter & Gamble, Ford, and Intel have led the way in using corporate anthropologists, ethnographers, and now futurists to better understand the long-term social, economic, and technological trends influencing their customers' choices, Wunker writes. But today, startups can move from insight to strategy far more nimbly than siloized corporations, putting competitive pressure on futurists to produce actionable results quickly. If they don't, out they go.
Wunker offers tips to help corporate futurists keep their jobs: Become multilingual in the company's languages so you communicate effectively among the various teams of marketers, strategists, and developers. Create a framework that everyone can understand, such as "jobs to be done." And put your trend insights into the context of opportunities that are already relevant to the company.
"The futurists that do the best job of preparing their companies for what's coming," Wunker writes, "will be those that map their insights to contexts, occasions and customer types that are already on the company's radar."
Read: "Why Companies Need Corporate Futurists But Will Fire Them Anyway" by Stephen Wunker, Forbes, CMO Network (posted April 12, 2016).
Signals: corporations, futurists
Moves in the Field: The Millennium Project, Future Today Institute
* The Millennium Project has added two new nodes—Armenia and Tunisia—to its global network of futurists. The Armenian node chair is Dr. Artak Barseghyan of the Engineering Academy of Armenia and the Tunisian node chair is Prof. Jelel Ezzine, president of the Tunisian Association for the Advancement of Science, Technology and Innovation. Details: The Millennium Project
* Futurist Amy Webb has relaunched her consulting firm Webbmedia Group as the Future Today Institute. "We answer 'What's the future of X?' for a global client base using our data-driven, six-part forecasting methodology," Webb writes. "Our promise is to inspire smart people to imagine what's next and to help them make better, more informed decisions, ensuring the vitality of an organization in the face of disruption." Details: Future Today Institute
Publication: The Third Wave, Steve Case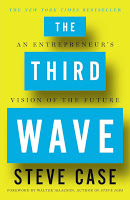 Subtitled An Entrepreneur's Vision of the Future, AOL co-founder Steve Case's new book is both an homage to pioneering futurist Alvin Toffler and an outline of where the Internet is taking us next. For Case, the creation of the Internet was first wave and the development of social media was the second; the third wave is the seamlessness of interconnectivity that enables such transformative phenomena as the gig economy, where more workers are independent contractors rather than employees. See The Third Wave: An Entrepreneur's Vision of the Future by Steve Case, Simon & Schuster (April 2016).
Forecast of the Month: Bill Nye on Recycling
When Business Insider asked Bill Nye why recycling matters, the "science guy" and author of Unstoppable responded that resources once wasted will become valuable in the future. "I predict someday people will be mining landfills," he said. See: "We Asked Bill Nye if Recycling Matters," Business Insider (posted March 12, 2016).
Call for Papers: Education 2030 and Beyond
The European Journal of Futures Research seeks papers addressing ways to transform education to "prepare students for a future marked by complexity, uncertainty and volatility." The editors request articles that use concrete examples of innovative solutions for curriculum development, integration of future competencies, and understanding of the impacts of social and technological trends. Deadline for abstracts is June 15. Details: European Journal of Futures Research or contact editor@ejfr.eu.
Mack Report: Arctic Amplification
In his recent article for the Futures Centre's Forum for the Future, AAI Foresight managing principal Timothy C. Mack reflects on the complexities of the positive and negative feedback systems at work on the Earth's polar regions and the impacts of—and on—human systems and activities.
"Countries adjacent to the Arctic region have been especially energized by the opportunities offered by Arctic transformation," Mack writes, "including access to new resources and previously inaccessible territories through dramatically reduced summer blockage of potential shipping lanes has given a 21st Century 'gold-rush' feeling to the region. While the shipping industry is a clear beneficiary from the decline of summer ice, the thawing of permafrost is quite likely to make many Arctic lands a sea of impassable mud."
Read: "What does Arctic amplification mean for the planet?" by Timothy Mack, Forum for the Future (posted March 28, 2016).
Signals: Arctic, Antarctica, climate change